Total Listings for Wheels & Tires (52)
Featured
Factory rims for C6 generation. Only 1200 miles of usage.
September 20, 2017
699 total views, 3 today
Thin spoke 5 star chrome rims with good sumitomo tires with alot of tread and corvette center caps. Text c5 rims and i will contact […]
August 21, 2017
141 total views, 4 today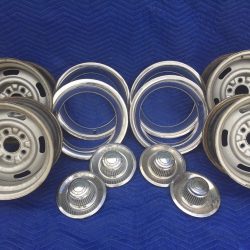 These ORIGINAL wheels, hubcaps, and rings are off of my 1969 Stingray that sold. They are a COMPLETE set in great condition. These are located […]
August 16, 2017
86 total views, 2 today
I got new wheels and tires for my C7 Corvette Stingray no use for these anymore practically brand new. Corvette GM Black front: 18-inch x […]
August 7, 2017
128 total views, 2 today
2 new 18×9.5 blavk c7 zo6 wheels. 40 mm offset.. 0 miles.
July 15, 2017
129 total views, 2 today